Welcome to our very extensive site on pigeon and bird control from a company that has been doing this type of work for over 11 years.
We have tried to make our site as informative as possible to give you a better understanding of what products and solutions are available for your bird and bee control problems.
We feel that a knowledgeable customer is better equipped to see the quality of our work and then make a more informed decision.
Have Birds?
"We'll Travel"

Factoid: A single pigeon will dispenses 25 lb's of excrement a year, how many pigeons do you have living on your roof or hanging around your property?
In Tucson, Casa Grande, Kingman, Bullhead City, Laughlin, Lake Havasu, Flagstaff, Henderson and Las Vegas Nevada commercial bird control projects only.
NO Single Family Residential work in the Las Vegas Area Only Commercial Buildings
Call Us for an Estimate
We can usually Meet or Beat
most any other licensed
competitors written quote
for the same type of work
We are a family owned and operated company based in Phoenix Arizona specializing in providing Humane, Effective, Discrete and Guaranteed Bird and Pigeon Control Solutions for commercial and industrial business's throughout Arizona and Las Vegas, Nevada.
From excluding birds from outside open air dinning patios with new and improved bird and pigeon hazing systems or commercial buildings to multi-story office's and casino's, we can help you with your bird and pigeon control problems in Las Vegas, Nevada
Call us today toll free at 1-877-828-2473 for an inspection and evaluation on how we can help you put an end to the hazards and liabilities associated with pest birds on your property.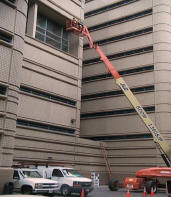 We are specialists and have excluded pigeons and other birds from many unusual types of structures like freeway underpasses, gas station canopies, cooling towers, billboards, parking garages, casinos, libraries, multi-story buildings, warehouses, hangars, hospitals and many other structures where pigeons and other pest birds had become a health issue, building image problem or a liability and hazard problem with slip and falls hazards.
While pigeon control and bird control in Las Vegas Nevada is associated with the pest control industry controlling pest pigeons and controlling other pest birds in Las Vegas Nevada require completely different tools, methods, equipment and knowledge than controlling pests like ants, crickets, roaches or termites.
Would you hire a dentist to fix your car?
Then why hire some bug guy to fix your bird problems!
As the hands on owner of Arizona Wings N' Stings LLC, I should know how different it is. After owning my own pest control company in Arizona for 16 years and then selling it to one of the largest pest management companies in the world in order to spend all of our time doing pigeon and bird control for all kinds of buildings and structures in Arizona and Nevada.

Training & Experience means "We do the job right, the 1st time"
All of us here at Arizona Wings N' Stings enjoy what we do and it shows in our work, the effective results we get for our clients and the many referrals we get from our 1000's of satisfied customers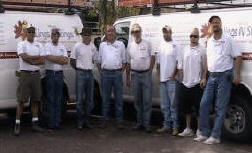 Guaranteed Products - Guaranteed Workmanship
- Guaranteed Results -
Big job or Small job, We Can Do It All.
Contact Wings N' Stings today to see about scheduling an inspection of your commercial property in Las Vegas, Nevada and see how we can help you stop all the noise and associated mess pigeons and birds create as well as the problems of possible slip & fall dangers or health hazards associated with pest birds like pigeons, sparrows and starlings that may be roosting or nesting on your Las Vegas Nevada business.
Call Us Today for your commercial projects in Las Vegas at 1-877-828-2473
Welcome you are visitor #